Principal Flute and Soloist of the Buenos Aires Philharmonic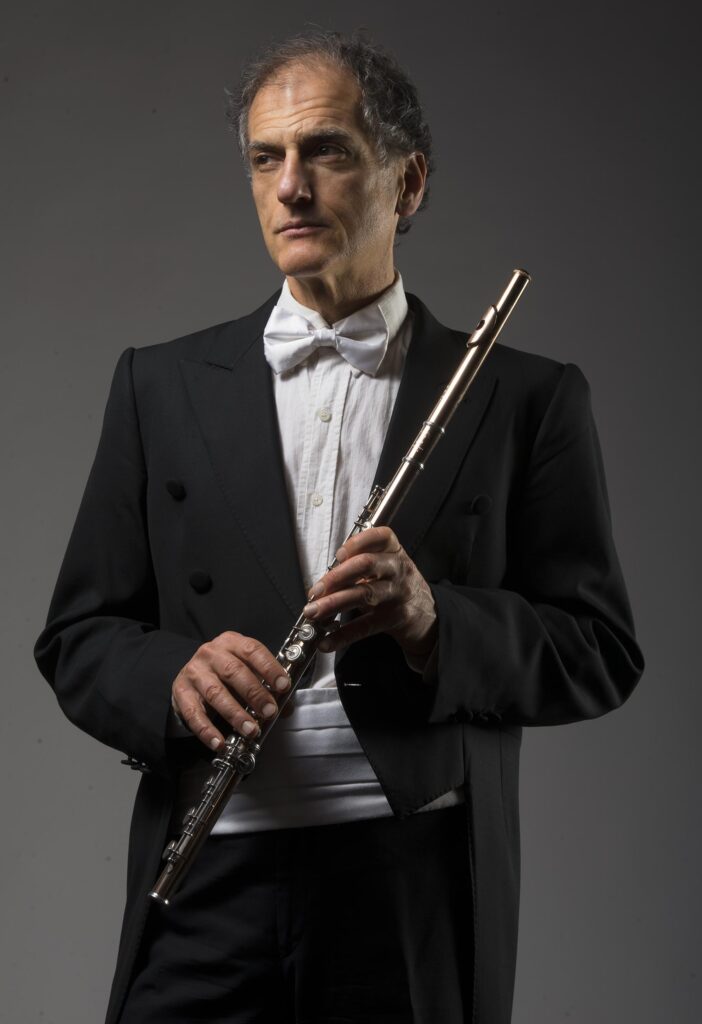 Claudio Barile, born in Buenos Aires, Claudio Barile has developed a long and successful career in South America, Europe, and the United States as a major exponent of the Argentinian artistic musical tradition.
As Principal Flute and Soloist of the Buenos Aires Philharmonic since 1984, and a member of the Orchestra since 1974, Mr. Barile has been featured often performing the major solo flute repertoire at the famous Teatro Colon. Solo performances this season included the Flute Concertos by Jacques Ibert, Mozart, and CPE Bach.
Mr. Barile has also held orchestral positions with the Buenos Aires Musical Ensemble, Mexico's Orchestra of the Americas, and The National Symphony of Argentina. While performing with the Berlin Philharmonic, he participated in the recording of the Brahms Serenata 1, Op. 11, in D Major, conducted by Claudio Abbado.
His international solo performances as a member of Camerata Bariloche have included concerts in Europe and The United States of America, and an historic performance during the 100th anniversary celebration of New York's Carnegie Hall. Mr. Barile's recording of Alberto Ginastera's "Impressiones de la Puna" with Camerata Bariloche is on the Dorian Label.
Other solo appearances have been with the Prague-Collegium Orchestra and the Buenos Aires Bach Festival Orchestra.
An active chamber musician, Mr. Barile performs with the Baroque Ensamble,
Quadro Barocco (performing ancient period-instrument repertoire), and is a founding member of the award-winning Buenos Aires Philharmonic Quintet. The ensemble was awarded the prestigious Konex Award for Chamber Music in 2009.
As three time recipient of the Konex Award, Mr. Barile also received the Platinum Award for Wind Instruments in 2009 and the Konex Award for Wind Instruments in 1999, both for his solo accomplishments.
Additional awards and honors include: First Prize in the Second National Young Instrumentalist Competition, Mar del Plata; the Diplôme d'Honneur for Young Flutists Contest organized by La Guilde Française des Artistes Solistes, Paris; the Mozarteum Argentino Scholarship of Fundación Antorchas, to attend Herbert Von Karajan Foundation courses in Berlin; First Prize in the Argentine Musical Competition; the OAS-CIDEM prize from the Organization of American States, Washington DC; First Prize in the Mozart Biennial Competition; and First Prize in the Argencard Competition, organized by Radio Clásica, which enabled him to take part in the 40th Aspen Music Festival, and study with Nadine Asin and James Galway. Early teachers included Domingo Rulio in Buenos Aires and Karl Heinz Zoller in Berlin.
Mr. Barile was featured as a soloist at two international flute conventions in last summer: the 2011 James Galway International Masterclass in Weggis, Switzerland and the 2011 National Flute Association Annual Convention in North Carolina, USA. His recent USA tour combined an invitation to teach a master class for Trinity Chamber Concerts, San Francisco; a week-long residency of master classes in Piazzolla and a solo concert at Texas Tech University; a performance of the Khachaturian Flute Concerto with the Ridgewood Symphony Orchestra, Ridgewood, NJ; a Master Class at Hartt College of Music, plus recording sessions at Ithaca College.
He is recipient of the prestigious Carlos Gardel Award for Best Classical Album of 2012 for his CD of Astor Piazzolla: History of the Tango for Flute and piano and Tango Etudes for Solo Flute and Daniel Binnelli piece: "París desde aquí".