Solo Flute of Wiener Philharmoniker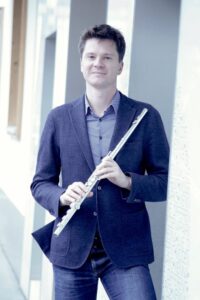 Karl-Heinz Schütz is Solo Flute of Wiener Philharmoniker and therefore in the same position at the Wiener Staatsoper, having held the same position with the Stuttgarter Philharmoniker for four years, and with the Wiener Symphoniker from 2005 to 2011. Born in Innsbruck and raised in Landeck, Tyrol, he received his musical education at the Landeskonservatorium in Vorarlberg with Eva Amsler, Conservatoire national supérieur de musique in Lyon with Philippe Bernold, and with Aurèle Nicolet in Switzerland.
He won first prizes at the Carl Nielsen International Music Competition in 1998 and the International Flute Competition Kraków in 1999. He has performed as soloist across Europe and Japan, with performances of the importantflute concertos with Wiener Philharmonikerand Symphoniker as well as NHK Tokyo and Sapporo symphony orchestra, ao Conductors such as Daniel Barenboim, Fabio Luisi, Yakov Kreizberg, Dmitrij Kitajenko and Bertrand de Billy invited him to be the soloist in their concerts.
Karl-Heinz Schütz is a passionate chamber musician and a member of various ensembles from baroque to contemporary. In 2013 he succeeded Wolfgang Schulz in the Ensemble Wien-Berlin and in the WIENER RING ENSEMBLE. He has appeared at international festivals in Salzburg, Bregenz, Graz, Montpellier, Rheingau, Sapporoand Prague, among others.
Karl-Heinz Schütz is Professor of Flute at the Musik und Kunst Privatuniversität Wien and has held several guest professorships. He gives master-classes throughout Europe and is also an active recording artist, especially for CAMERATA TOKYO, where his Mozart, Prokoffiev and Brahms Cds were released. With the Academy of St. Martin in the fields under Sir Neville Marriner an album was published at CHANDOS, with the title: 20th centuries concerto grosso. He is artistic director at HORIZONTE Landeck.