Principal Flute of New York Philharmonic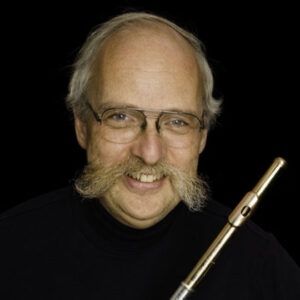 With the start of the 2000–01 season, Robert Langevin joined the New York Philharmonic as Principal Flute, in The Lila Acheson Wallace Chair. In May 2001, he made his solo debut with the Orchestra in the North American premiere of Siegfried Matthus's Concerto for Flute and Harp with Philharmonic Principal Harp Nancy Allen and Music Director Kurt Masur. His October 2012 solo performance in Nielsen's Flute Concerto, conducted by Music Director Alan Gilbert, was recorded for inclusion in The Nielsen Project, the Orchestra's multi-season traversal of all of the Danish composer's symphonies and concertos, to be released by Dacapo Records.
Prior to the Philharmonic, Mr. Langevin held the Jackman Pfouts Principal Flute Chair of the Pittsburgh Symphony Orchestra and was an adjunct professor at Duquesne University, in Pittsburgh. Mr. Langevin served as associate principal of the Montreal Symphony Orchestra for 13 years, playing on more than 30 recordings. As a member of Musica Camerata Montreal and l'Ensemble de la Société de Musique Contemporaine du Québec, he premiered many works, including the Canadian premiere of Pierre Boulez's Le Marteau sans maître. In addition, Mr. Langevin has performed as soloist with Quebec's most distinguished ensembles and has recorded many recitals and chamber music programs for the Canadian Broadcasting Corporation. He also served on the faculty of the University of Montreal for nine years.
Born in Sherbrooke, Quebec, Robert Langevin began studying flute at age 12 and joined the local orchestra three years later. While studying with Jean-Paul Major at the Montreal Conservatory of Music, he started working in recording studios, where he accompanied a variety of artists of different styles. He graduated in 1976 with two first prizes, one in flute, the other, in chamber music. Not long after, he won the prestigious Prix d'Europe, a national competition open to all instruments with a first prize of a two-year scholarship to study in Europe. This enabled him to work with Aurèle Nicolet at the Staatliche Hochschule für Musik in Freiburg, Germany, where he graduated in 1979. He then went on to study with Maxence Larrieu, in Geneva, winning second prize at the Budapest International Competition in 1980.
Mr. Langevin is a member of the Philharmonic Quintet of New York with which he has performed concerts on many continents. In addition, he has given recitals and master classes throughout the United States and in countries such as Canada, Spain, Costa Rica, Japan, North Korea, Singapore, and Vietnam. He is currently on the faculties of The Juilliard School, The Manhattan School of Music, and the Orford International Summer Festival.
https://nyphil.org/about-us/artists/robert-langevin
Emanuel serial number serial number 240
Model R.L. Sterling silver .022 custom special commission